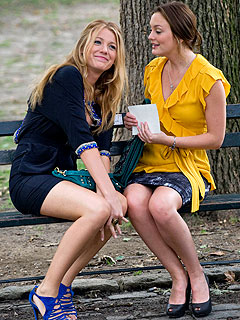 I only watched Gossip Girl season 3 for like only 10 episodes, and I went, "Ooof!" seeing how drastically changed each cast was. Dan Humphrey with his well-toned body, hullo? He's like this hunk emerged out of nowhere, and where the heck did the skinny-lumpy highschoolish boy go? Suddenly, he's hot! That's weird! I never like Dan's character, ever, but now I'm seriously considering changing my opinion.

Chuck Bass - Blair Waldorf, well, this two has always been my favourite, but I gotta admit, I forgot how season 2 ended. So I was a bit confused when they're both settled up as a couple. At first, it was weird, but I'm loving each and every second of the scene after Chuck said something adorable to Blair, "Everytime you forget you're Blair Waldorf, just remember, I'm Chuck Bass, and I love you." Aaaaw... I actually squealed in my seat. Hahahahahahaha.

Serena Van Der Woodsen. Well, I'm a bit tired of this character, honestly. I think it's because she reminded me of myself (er, sounds very wrong). I meant in a way that she kept looking for who she realy was. The idea of finding your identity whilst in the same time couldn't make up your mind about something is really annoying. And that's me. I mean, I've been there. It is one thing to experience it by yourself, but to have to see a movie about it, it's a whole different kind of mojo. Anyway, my interest for Serena came right back on after she's having relationship with Carter Baizen.

Actually, I have no idea who this Baizen guy is. I mean, I knew in season 1 and 2, he's supposed to be the archenemies of Chuck Bass but what the hell did he do anyway? I never seen him enough to determine what his character is. BUT after he's got involved with Serena (and especially after the wood scene where he was left alone by Serena, feeling dumb and naive), I liked him! And that's where I think Serena's character is lighten up a bit.



Hmm, who did I left out? Ha, Nate Archibald. I /hate/ his hairstyle at the first episode, but then I found my long-lost-love with this guy after episode 4 where he teased Dan Humphrey into getting to know an actress named Olivia Burke. Ooh, Nate, I loved your adorable lil smile. *sue me*

Speaking of which, Hillary Duff in Gossip Girl? What do you think about it? Me personally, I think it's lame. The only good thing about Gossip Girl is how they used new talent as their cast. Well, okay, maybe Blake Lively and Leighton Meester can not actually be considered as new talent since they've played in other series, but I think before Gossip Girl, they haven't settled their firm feet in the biz yet. But Hillary Duff? Everybody knows who she is (okay, everybody who's teen and beyond knew who she is), so why can't they find another talented refreshing young actress to fill in as Olivia Burke?

I'm not saying that her acting skill sucks, no, I just eager to see new faces. Gimme new refreshing faces and talents and characters!!!